About Universal Hair & Scalp Clinic in Dublin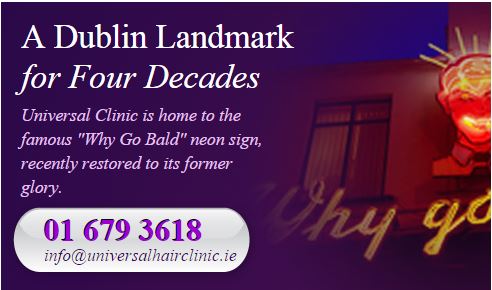 The Universal Hair & Scalp Clinic (Est. 1960) is the first of its kind in Dublin. The Clinic offers treatment for those experiencing complaints of the hair and scalp through a specialised and complete clinical service. In particular, a treatment is available that can help effectively combat hair loss in both men and women and is exclusive to the Clinic for over 50 years.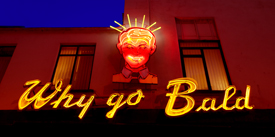 Mr. W.G.B. (Why Go Bald?) a landmark well-known to Dubliners over nearly four decades was restored in 1999 to its former glory. The city centre neon sign, which had been destined for the rubbish tip, was switched on in 1999 (Nov 28th.) for the first time in five years.
The sign as it has appeared in the films "A man of no importance" and "Educating Rita". The sign was about to be removed and dumped when a preservation group called the 20th Century Trust requested it be restored.
The sign was restored free of charge by Taylor Signs, who built it 37 years ago. The business has been in the same family for 38 years and according to the owners, the sign is appreciated by many famous Dubliners, including U2's Bono, who said it was his favourite Dublin landmark.