Male Pattern Baldness Treatments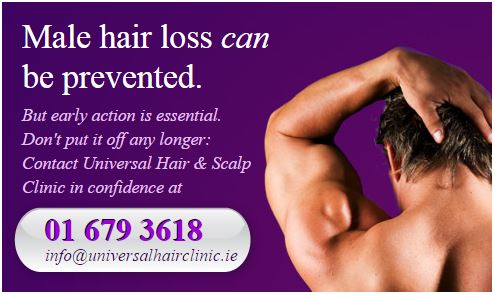 Male Pattern Baldness is a distressing condition that is unfortunately all too common. Hair loss can begin in a man's early 20s or even during his teenage years, and treatment options can be limited once it progresses beyond a certain point.
However, the good news is that you can halt its progress if you take action in good time. We offer a range of effective treatments for thinning hair, to fit your budget and schedule. If your hair loss has advanced to a stage where our conventional treatments cannot stimulate follicular activity, our resident hair transplant surgeon will be happy to discuss surgical options with you.
If you are concerned about thinning or receding hair – don't delay. Talk to our friendly, discreet staff at 01 6793618 or info@universalhairclinic.ie, and take your first step towards a healthy head of hair that's here to stay.