Male Pattern Baldness Treatments
Male Pattern Baldness is a distressing condition that is unfortunately all too common. Hair loss can begin in a man's early 20s or even during his teenage years, and treatment options can be limited once it progresses beyond a certain point.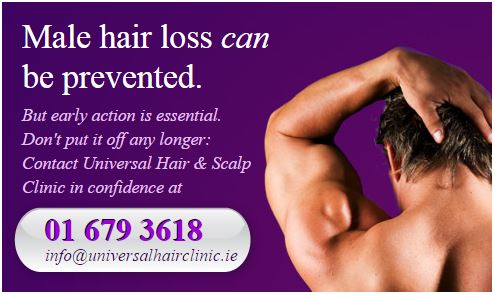 However, the good news is that you can halt its progress if you take action in good time. We offer a range of effective treatments for thinning hair to fit your budget and schedule.
If you are concerned about thinning or receding hair – don't delay. Talk to our friendly, discreet staff at 01 6793618 or info@universalhairclinic.ie and take your first step towards a healthy head of hair that's here to stay.
Treatments for Male Pattern Baldness in Dublin
The primary treatment for male pattern baldness is a topical medication applied directly to the scalp. It is an effective treatment for mild to moderate cases. It works by tricking the hair follicles into believing they are receiving more blood than they actually are, and this stimulates hair growth.
This drug is often combined with another medication, which blocks the enzyme that converts testosterone into dihydrotestosterone (DHT). This reduction in DHT slows or stops male pattern baldness in many users.
Laser hair growth therapy is another non-invasive treatment used for male pattern baldness. Here, affected areas are exposed to a low-level laser irradiating photons into the scalp. The photons are believed to stimulate weakened cells, resulting in hair growth. Also called red light therapy, this treatment is generally painless and won't require any downtime.
Platelet-rich plasma (PRP) therapy is another treatment for pattern baldness that is growing in popularity. It involves taking your own blood, processing it, and injecting it into your scalp. While some studies show it is effective, it is not recommended for everyone. For example, if you are on blood thinners or a heavy smoker or drinker, your hair and scalp specialist may advise against this treatment.
If your hair loss has advanced to a stage where conventional treatments cannot stimulate follicular activity, our resident hair transplant surgeon will be happy to discuss surgical options with you.
Want to know which hair loss treatment is right for you? Schedule a consultation with our trichologist to get a proper diagnosis! Click here to book an appointment!
What Is the Best Treatment for Male Pattern Baldness?
While these treatments are effective, they do not work for everyone. This is because hair loss is different for each person. A one-size-fits-all approach to treatment won't work. Factors such as age, medical history, and severity of condition need to be considered to successfully treat hair loss.  
Ultimately, determining the right treatment for your hair loss entails seeing a trichologist or dermatologist. Proper diagnosis is the first step in the treatment process. Hair and scalp specialists have the knowledge, experience, and tools to assess your condition and determine the cause of hair loss.
In Dublin, the Universal Hair & Scalp Clinic are the authority when it comes to treating male pattern baldness. We've helped thousands of men manage their condition, grow their hair back, and regain confidence.
If you're looking for male pattern baldness treatment in Dublin, look no further! Call us today at 01 6793618 to schedule an appointment with our trusted trichologist!