Hair Loss Treatment in Dublin:
Young or old - your hair and skin do matter!
Your Hair & Beauty Clinic
Universal Clinic provides hair and scalp treatments and products to help combat hair loss (alopecia), thinning hair and related problems, such as dandruff, dry skin flakes, itching and dry or oily scalp as well as alopecia and psoriasis in both men and women.
Although results vary from person to person, once treatment is commenced you can feel your hair is thicker and healthier, and you might even experience the cessation of associated problems such as those mentioned above. The Clinic also offers treatment and support for those with Trichotillomania.
Opening hours
1000-1900
1000-1800
930 - 1300
Get in touch
Universal Hair Clinic
3 South Great Georges Street, Dublin 2
(entrance in Dame Lane)
Quick facts about our hair loss clinic
See what we provide for your hair
The Oldest Clinic
We are the oldest Hair & Scalp Clinic in the country as we are established since 1960.
Consultant Trichologist
Carol Johnson, Certified Member of International Ass. of Trichologists is an expert on disorders of the hair & scalp.
Consultant Dermatologist
Dr. Sean Trapp, Dermatologist - advanced training in cosmetic procedures and conditions of the skin.
Trichoscan Digital Imaging
The only clinic in Ireland with this type of technology for forensic analysis of the hair & scalp.
Hair and Scalp Treatments
We provide localised hair and scalp treatments which are non-surgical.
Consultations
Book now for professional analysis & treatment for a hair loss, scalp or skin condition.
Trichologist & Hair Loss Specialist:
Universal Hair Clinic Dublin in the Spotlight
Carol Johnson, Dublin Trichologist, Discussing Hair Loss in Women
Watch Carol Johnson, the trichologist (aka hair and scalp expert) of Universal Hair Clinic in Dublin joining Elaine TV show on November 5th 2019 and discussing hair loss in women.
Discussing natural hair loss treatments, how to combat hair loss in women on a day to day basis. The importance of hair beauty for women. How stress can be a trigger of alopecia areata or alopecia totalis.
What to do if you see lots of hair falling out in the shower and what you can do at home to help - check your nutritrion, proteins, iron levels etc.
Carol Johnson at an Exclusive Hair Care Masterclass in Dublin Hosted by Viviscal


Viviscal took over Hillary's Salon in Dublin to host a one-off hair care masterclass recently.

The day saw leading trichologist Carol Johnson team up with nutritionist Sarah Keogh and hair stylist Hillary O'Reilly to share their advice for healthy hair.

Some of Ireland's leading stylists, influencers, models and beauty gurus turned out to learn how to keep their hair in check.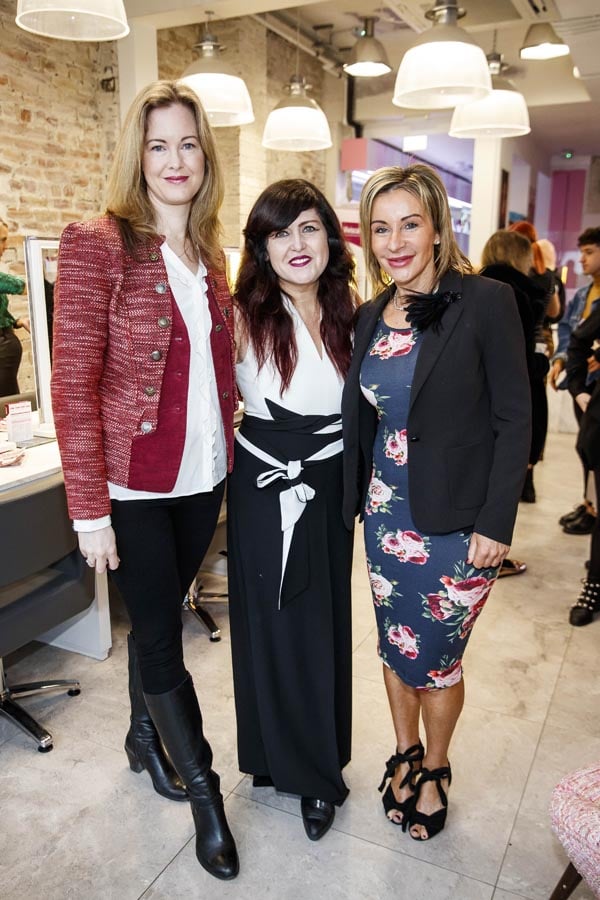 Universal Hair Clinic:
Hair Loss Tips
August 30, 2021
It is not easy for people to talk about their hair loss. In fact, instead of seeing a specialist, many opt to resolve the issue on
[…]
July 30, 2021
While most people enjoy luscious hair during their youth, it's not something that they keep for the rest of their lives. By the time they reach
[…]
June 15, 2021
Hair loss can be properly managed and treated, but most people do not know the right steps to take to achieve their desired results. Contrary to
[…]
Visit our Hair Loss Treatment Online Shop
Buy Hair Loss Treatment Products Online
Hair Loss Treatment - Find the Solution
Experts estimate that people lose 100 to 150 strands daily. While this may seem a lot, it actually is not considering that, on the average, a person has over 100,000 hair on the scalp.
Technically, 100 strands make up less than 1% of a person's hair. Hence, there is no need to fret if you see hair on your brush or pillow. Furthermore, chances are high that it is nothing serious – just a part of the usual hair growth cycle.
It is a different story, however, if you are exceeding the normal range, if you are losing excessive hair for a prolonged period of time or if you are losing clumps of hair.
Click here now to read our
Comprehensive Hair Loss Treatment Guide