Our Clinic in Media
RSVP Hair Awards 2023
From salons to shine-enhancing sprays, these brands and businesses are the trailblazing leaders of Ireland's hair industry.
Universal Hair and Scalp Clinic is among them!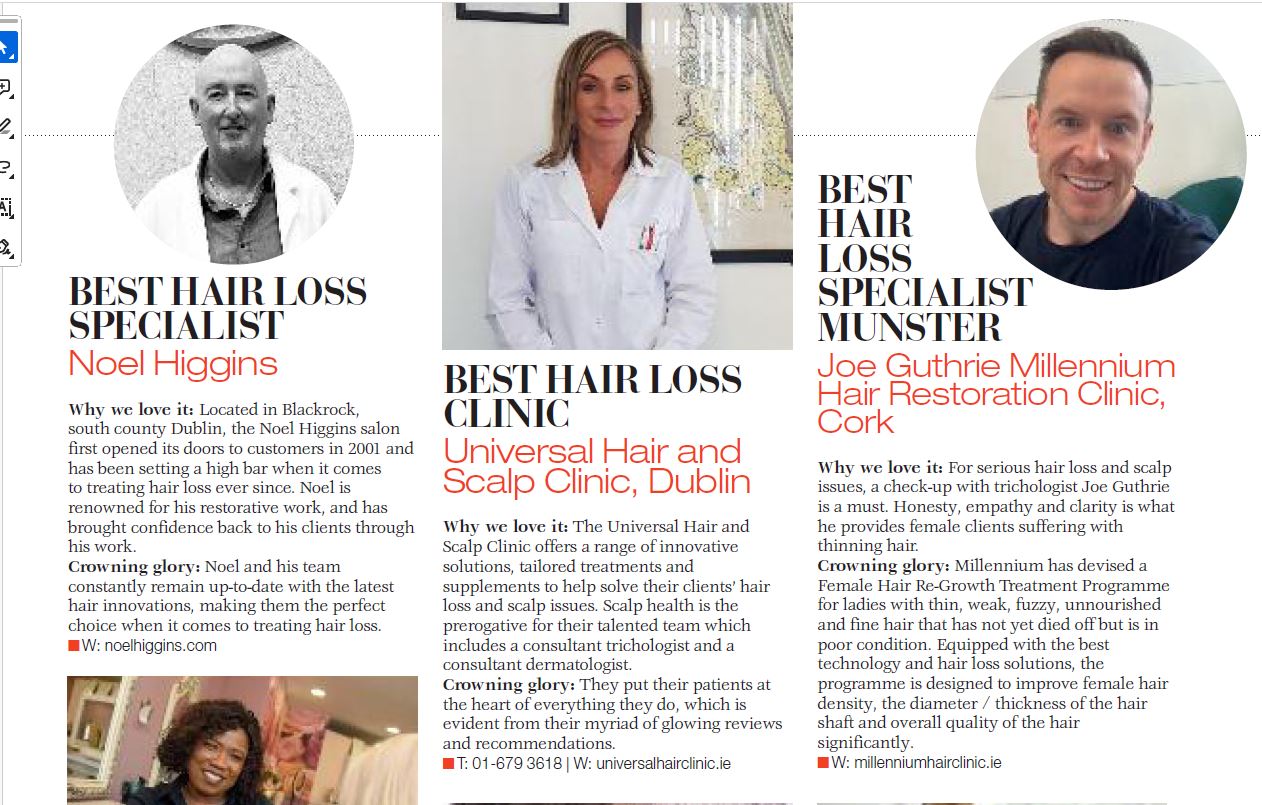 Carol Johnson on 2FM – TikTok Hair Trends
Carol Johnson from Universal Hair Clinic talks about discerning the good hair advice from the bad on TikTok!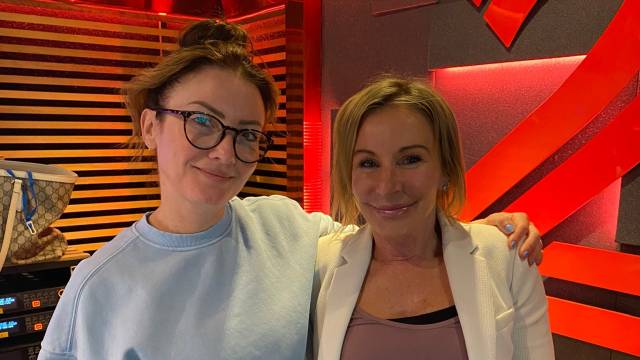 https://www.rte.ie/radio/2fm/clips/22242148/
RTÉ ONE Interview – Happy Scalp and Healthy Hair – October 2022
Carol Johnson, Dublin Trichologist, Discussing Hair Loss in Women
Watch Carol Johnson, the trichologist (aka hair and scalp expert) of Universal Hair Clinic in Dublin joining Elaine TV show on November 5th 2019 and discussing hair loss in women.
Discussing natural hair loss treatments, how to combat hair loss in women on a day to day basis. The importance of hair beauty for women. How stress can be a trigger of alopecia areata or alopecia totalis.
What to do if you see lots of hair falling out in the shower and what you can do at home to help – check your nutritrion, proteins, iron levels etc.


Irish Examiner: 'When I started losing my hair back in 2018, I felt like I was losing little pieces of me', March 2021
Her hair was her everything – and then it began to fall out. Mary Cate Smith on coming to terms with alopecia – and why she's never felt as free. Read More
The Irish Times: Why Go Bald sprouts new growth, August 2017
Carol Johnson has expanded the hair treatments on offer to include a skin and beauty side to the busines. Read More
Carol Johnson at an Exclusive Hair Care Masterclass in Dublin Hosted by Viviscal
Viviscal took over Hillary's Salon in Dublin to host a one-off hair care masterclass recently.
The day saw leading trichologist Carol Johnson team up with nutritionist Sarah Keogh and hair stylist Hillary O'Reilly to share their advice for healthy hair. Some of Ireland's leading stylists, influencers, models and beauty gurus turned out to learn how to keep their hair in check. The guest list on the day included Irma Mali, influencer Rachel Purcell and beauty expert Triona McCarthy.
The day began with a 'healthy hair' inspired breakfast of mini berry smoothies, superfood oat bars with seeds and smashed avocado on wholegrain toast. This was followed by a panel discussion where each expert shared their top tips for keeping hair in shape. Guests then enjoyed a volumising blowdry courtesy of the team at Hillarys. 
RTÉ Four Live, January 2011
RTÉ Television features Carol Jonhson and a client of Universal Hair & Scalp Clinic in a piece about stress-related alopecia.
Country Mix 106.8 interview, June 2010
Carol Johnson from Universal Hair & Scalp Clinic speaking about hair loss on Country Mix FM.
Ireland AM interview, TV3, October 2009
Ireland AM interview with Carol Johnson and a client of the Universal Hair & Scalp Clinic. The Clinic, which has provided treatment for scalp conditions ranging from male pattern baldness to psoriasis, helped Savannah Craib to overcome severe alopecia (hair loss).