Female Hair Loss Treatments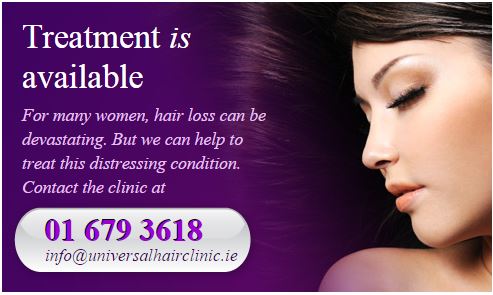 Whether blonde or brunette, long or short, straight or curly, hair is our crowning glory. However, for some women hair loss is a serious problem that can hamper confidence and affect self esteem. Hair loss ranging from subtle thinning to alopecia is becoming more prevalent among women. Early intervention is vital to save the existing hair and encourage new growth.
Thinning of the hair in women or pattern baldness, is a bit different from the pattern baldness seen in men. Women suffer from the problem usually after menopause though it can occur even in teenage. It may be due to stress, crash dieting, giving birth, bereavement, hormonal imbalance or an underlying illness, such as an underactive thyroid.
Normally women tend to lose around 100-125 hairs per day, which is normal. Female thinning of the hair or obvious hair loss usually starts thinning over the top and front of the head.
In the case of thinning hair and hair fall self-diagnosis is not a good idea. This is because women have a less obvious pattern of baldness. Early diagnosis should be sought by a trained and experienced Hair Loss Consultant at Universal Hair & Scalp Clinic, who can best advise on effective treatment to prevent further hair loss and encourage new growth. Hair transplant is another option if treatment is not recommended and a consultation with our Hair Transplant Surgeon can be arranged.
For more information or to discuss your individual hair loss case, please contact our trichologist staff at 01 6793618 or info@universalhairclinic.ie.