Female Hair Loss Treatments
Whether blonde or brunette, long or short, straight or curly, hair is our crowning glory. However, for some women, hair loss is a serious problem that can hamper confidence and affect self-esteem.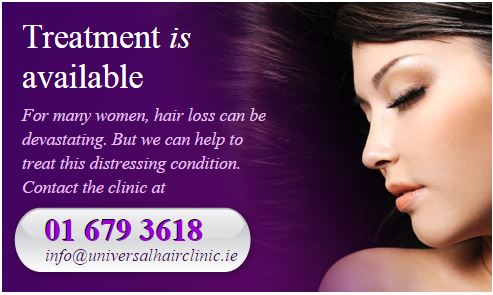 Women tend to lose around 100-125 hairs per day, which is normal. But others shed many more strands, resulting in a wider part or reduced hair density.
If you are experiencing excessive hair shedding, professional help is available at our hair loss clinic in Dublin. Click here to schedule an appointment with our trichologist!
What Causes Hair Loss in Women?
Hair loss or alopecia in women is a common problem, affecting over half of all women. A number of factors, including genetics, stress, and ageing, can cause it.
The most common cause of female hair loss is pattern baldness, a condition believed to be due to heredity and ageing. Women suffer from the problem usually after menopause though it can occur even during the teenage years.
Even men suffer from pattern baldness. In fact, this condition is also the leading cause of male hair loss. However, the thinning of the hair in women with pattern baldness is different from men with this condition.
In women, there is diffuse thinning all over the scalp, resulting in reduced density but rarely leads to balding. Also, the thinning tends to start at the top of the scalp or crown area. Meanwhile, in men, the hairline typically recedes, forming a characteristic "M" shape. In some cases, hair thins at the top of the head, resulting in a bald patch.
Noticed that your hair is thinning? See our top-rated hair loss consultant in Dublin right away! Call us now on 01 6793618 or leave us a message here!
Are There Treatments for Female Hair Loss?
Fortunately, many female hair loss treatments are available that can help you regrow your hair and make you feel more confident about your appearance.
These include non-invasive options like clinically proven medications that promote hair growth and slow down hair fall. Laser therapy is also another effective treatment for female hair loss.
If the hair loss is widespread and alopecia medications aren't working, hair transplantation may be recommended. But not anyone can get this treatment, so proper assessment is necessary.
Other products on the market are also designed to strengthen hair and improve its overall health. These include shampoos and topical products containing biotin, keratin, and coconut oil, to name but a few. Depending on the cause of your hair loss, supplements may be prescribed to address any nutritional deficiency and improve hair health.
Where to Get Treatment for Female Hair Loss in Dublin
If you are experiencing hair loss, it is essential to see a trichologist or dermatologist who can diagnose the problem and recommend the best treatment for you.
Self-diagnosis is not a good idea. This is because women have a less obvious pattern of baldness. Plus, female hair loss has a lot of possible causes. Lastly, while several different types of drugs can help stimulate hair growth in women, they do not work for everyone. What works for one sufferer may not necessarily produce the same positive effect on you.
Early diagnosis is critical to the success of the treatment. So, make sure you immediately set an appointment with a trained and experienced Hair Loss Consultant at Universal Hair & Scalp Clinic, who can best advise on effective treatments to prevent further hair loss and encourage new growth.
Are you experiencing excessive hair shedding? Get an accurate diagnosis and proper treatment! Schedule a consultation with our trusted trichologist. Call us today on 01 6793618 or email us at info@universalhairclinic.ie.