Hair Loss and Hair Disorders
​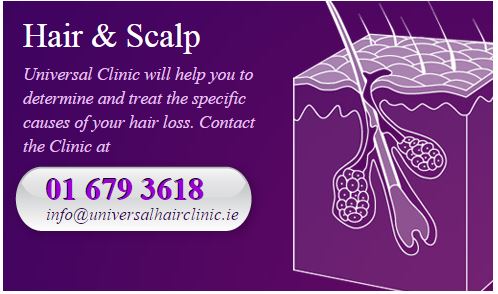 Hair loss can be extremely distressing. Going about your everyday life with thinning hair, receding hairline, or bald spot is hugely frustrating and embarrassing, not to mention very stressful. It can have a dramatic effect on your appearance, self-confidence, and well-being.
Without a doubt, hair loss can negatively impact every area of your life. Going through it alone can be challenging. Not knowing where to go for help or whom to trust can make things even more overwhelming.
If you are experiencing hair loss, we can help you! We have been providing specialised treatment for hair loss and scalp conditions since 1960.
At the Universal Hair & Scalp Clinic, we understand that getting your hair back is essential to regain your self-confidence. This is why we are committed to helping you get back on track.
You can count on our highly trained hair and scalp specialists to put their years of experience to work to find the best solutions for your unique needs and desires. They use the latest techniques and technology to create bespoke hair loss solutions, guaranteeing positive results.
Dealing with hair loss doesn't have to be a chore, especially if you know where to find expert help – Universal Hair & Scalp Clinic! Call us today on +353 (0)1 679 3618 to book an appointment.
What Types of Hair Loss Conditions Do You Treat?
At the Universal Hair & Scalp Clinic, we treat all hair loss disorders, from the most common to the rarest. Our hair loss specialists have seen it all – androgenetic alopecia, telogen effluvium, alopecia areata, and trichotillomania.
Many of our clients visit our clinic because of androgenetic alopecia. Widely known as male pattern baldness and female pattern hair loss, it is the leading cause of hair loss in men and women not just in Ireland but all over the world.
This form of hair loss is caused by a genetic predisposition to the miniaturisation of hair follicles. The age of onset varies, but it usually starts in your 30s or 40s. It often begins earlier in men, with many showing signs of pattern baldness when they enter their 30s.
Telogen effluvium is another hair loss problem that we usually encounter. It is characterised by excessive hair shedding all over the head. It happens when the normal hair growth cycle is disrupted due to pregnancy, illness, surgery, or other stressful events.
Our hair and scalp specialists also treat cases involving alopecia areata, alopecia universalis, alopecia totalis, traction alopecia, and trichotillomania.
What Hair Loss Treatments Do You Offer in Dublin?
We provide a range of treatments for all forms of hair loss conditions, from clinically-proven medications to state-of-the-art laser hair growth technology. We also offer hair replacement or transplant surgery if non-invasive treatment methods are not enough.
We know that every hair loss case is unique. This is why our expert team works hard to create an effective treatment plan tailored to your specific needs and goals.
An accurate diagnosis is key to determining the right hair loss solution for you. We never prescribe medications or procedures without proper consultation and thorough examination.
At our clinic, the first step to a successful hair loss treatment is identifying the root of the problem. So, on your first consultation, expect our team to get your family and medical history, examine your scalp, and run some tests. Using tried and tested techniques and cutting-edge technology, you can count on us to determine why you are experiencing excessive hair shedding.
Effective Hair Loss Treatment From the Trusted Hair Scalp Clinic in Dublin
If you are looking for a hair loss treatment that works and provides lasting results, look no further.
Our hair and scalp specialists have decades of experience providing our clients with high-quality hair restoration products and procedures. We have helped thousands of clients regain their self-confidence by restoring their natural hair with our revolutionary treatment plans.
We understand that hair loss can affect your life in many ways. That's why we're here to help you regain confidence and control over your appearance.
So, take that first step toward restoring your natural beauty. Schedule a consultation with our sought-after trichologist so that they can come up with a diagnosis and begin developing an individualised treatment plan.
We've made booking an appointment at our hair scalp clinic easy and discreet! You can book your consultation here, and one of our team members will get in touch with you.
As Dublin's leading hair loss clinic, we are committed to providing the best care possible to each of our clients. We ensure that every aspect of the process goes smoothly—from the initial consultation to the treatment phase —so that you never have to worry about the quality or effectiveness of your treatment again!
Are you experiencing excessive hair shedding? Do you have thinning hair or a receding hairline? Don't delay getting treatment! The earlier treatment is instigated, the better the results. Call us today on +353 (0)1 679 3618 or leave us a message here.