Spring Treat
Book Your Spring Treat: 30 Minute Image Skincare facial for Just €25 – please call us to find out more: +353 (0)1 6793618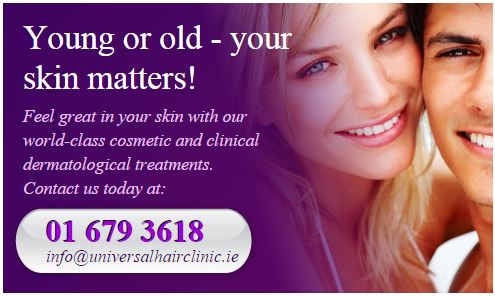 The Dermatology Service at Universal Clinic is operated by our resident Dermatologist, Dr. Sean Trapp, MB, Bch, (NUI), LMCC (Canada), DDS, Msc (UK) Dermatology who provides care to patients with rare and common conditions of the skin and nails.
We provide the most advanced treatments for conditions including:
Acne
Eczema
Psoriasis
Warts
Melanoma and cancers of the skin
Seborrhea (dandruff)
Rosacea
Wrinkles
Nail infections
Contact dermatitis
All treatments are performed by Dermatologists who have advanced training in laser and cosmetic procedures. As a result, our patients receive care from highly skilled physicians rather than nonphysician providers, such as nurses and estheticians, who often are employed at private medical clinics and spas.
Anti-wrinkle injections (Botox ®) and facial fillers (Restylene) are performed by our Dermatologists who have extensive cosmetic dermatology training. This allows the Clinic to offer top-quality services in every area of the cosmetic dermatology field, while ensuring patients safety and satisfaction.


Primary Care Dermatology Society